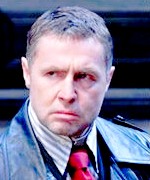 David O'Hara est le 9 juillet 1965 à Glasgow en Ecosse. Après avoir quitté l'école, il entre dans un programme de jeunesse consacré au théâtre. A 17 ans, il déménagea à Londres où il entre à l'école centrale du théâtre. C'est à cette époque qu'il débutera sa carrière notamment dans des pièces de théâtre.
¤¤¤¤¤¤¤¤¤¤¤¤¤
Filmographie
1984: Comfort and Joy: Ingénieur
1985: One by one (TV serie):?
1986: Link: Tom
1986: The monocled mutineer (TV serie):?
1989: Resurrected: Infirmier
1990: Taggart (TV serie): Malcolm Durie
1991: Chimera (TV serie): Reynolds
1991: Jute City: Duncan Kerr
1992: The bridge: Phillip Wilson Steer
1993: Full stretch (TV serie): Steve Bissell
1991/1993: Screen two (TV serie): Michael/Ronnie Wilson
1994: Grushko (TV serie): Lev
1994: The Tales of Para Handy (TV serie): Robert Grant
1994: Open Fire: Armed Robber
1995: Braveheart: Stephen
1995: The near room: Harris Hill
1996: Some mother's son: Frank Higgin's
1996: Prime supect 5: Erroers of judgement: DS Rankine
1997: Ennemis rapprochés: Martin MacDuff
1997: The slab boys: Terry Skinnedar
1997: L'entremetteur: Sean Kelly
1997: Les aventures d'Oliver Twist: Bill Sikes
1999: Fever: Will
1999: The match: Mécanicien
1999: Janice l'intérimaire: O'Brien
1999: Jésus: Jean-Baptiste
2000: Donovan Quick: Clive
2001: Crossfire Trail: Rock Mullaney
2000/2001: Washington Police (TV serie): Détective Danny "Mac" McGregor
2001: Made: The Welshman
2003: Den of lions: Ferko Hurchina
2003: Stander: Allan Heyl
2004: Pulling Moves (TV serie): Nuts & Bolts
2004: Hôtel Rwanda: David
2005: The commander: Blackdog: DCC Stephen "Blackdog" Blackton
2006: Tristant & Yseult: Donnchadh
2006: Club soda: Homme au bar 2
2006: Les infiltrés: Fitzy
2007: Damages (TV serie): John Ward
2008: Trial & Retribution (TV serie): DI Jack Mullins
2008: Doomsday: Micheal Canaris
2008: Wanted: choisis ton destin: Monsieur X
2009: Jack Said: Le Boss
2009: Darfur: Freddie Smith
2010: The Kid: Terry
2010: Les Tudors: Henry Howard, Duc de Surrey
2010: Gilf in the Kingdom: Shivas Irons
2010: Harry Potter et les reliques de la mort (Partie I): Albert Runcorn
2011: Cowboys et envahisseurs: Pat Dolan
2011: Best laid Plans: ?
2011: Whole Lotta Sole: Mad Dog Flynn